All in accordance with the highest standards of
production
Our work covers the complete phases of air distribution, with special attention to the problem of noise solution and odor treatment. The comprehensive systems we offer for distribution and control products, as well as for applications, range from homes to the largest industrial installations. The common feature of this all-inclusive range is the high quality, backed by an innovative production process certified according to ISO 9001:2015
Acoustic

The rectangular sound attenuator, NRESA, is designed to attenuate the noise transmitted through air ducting, generated from ventilation fans, AHUs, and generators, as well as a large range of industrial applications. It is highly effective at low and high frequencies with low pressure losses and minimum regenerated noise.

The cylindrical sound attenuator provides good noise attenuation in round ductwork. Two types of cylindrical sound attenuators are available: ˗ NCYSA: A straight through design, offering good acoustic performance and negligible pressure loss. ˗ NCYPSA: A design containing an aerodynamically efficient concentric acoustic pod. This type is used mainly for higher attenuation performances.

Genset Rooms Noise treatment

Nakhoul Corporation offers a complete solution for generators' rooms noise treatment. The generated Noise is controlled by providing Acoustic lining on walls & ceiling, sound proof doors, Sound Attenuators on the fresh air and hot air sides, and properly designed mufflers. All the components are engineered and manufactured at the company premises; they are customized and tailored to fit each particular applications.
Cyclones
CYCLONE SEPERATOR FOR GENERATOR FLUE PIPES

The cyclone separators are used with generator flue pipes to filter all smokes and combustion flues from all mixed particles before being emitted to the outer atmosphere. A rain cap is usually installed at the outlet to eliminate rainwater from infiltrating through. The continuous seam welding on this cyclone makes it a strong and robust steel structure. Nakhoul Corporation manufactures three main cyclone types and with different thicknesses:

Cyclones made of black steel, coated with high heat resistant paint

Cyclone made of AISI Type 304 Stainless Steel (1.4301)

Cyclones made of AISI Type 316L Stainless Steel (1.4404) (Recommended in coastal or industrial area.)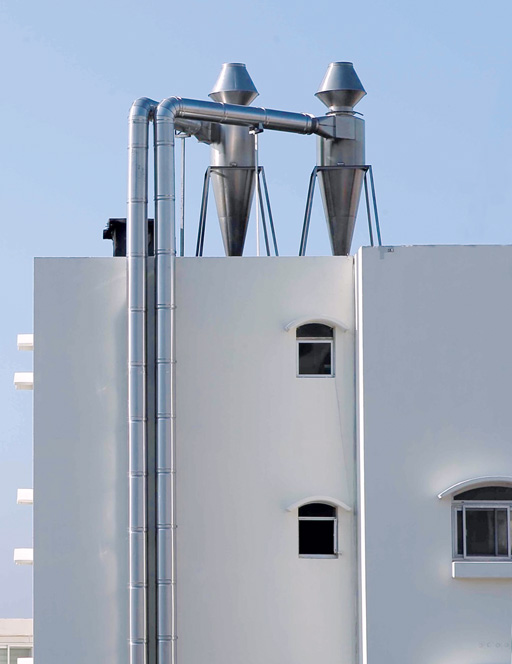 Round Duct PHID
Perforated High Efficiency Round Duct PHID

The Perforated High Induction Round Duct (PHID) is a high induction diffuser designed to address the ventilation needs of spaces with different volumes. The perforation is studied in accordance with the dimension of the space where PHID is to be installed. The PHID is ideal for applications where the technology must embrace the architectural design
Air Filters Housing

Nakhoul Corporation manufactures a complete line of In Line Housing for HEPA Filters and Active Carbon Filters to suit its projects and Customer's needs. The Housings are fabricated according to the applicable standards and following the production control system implemented by the company.

The housing can withstand internal pressures of up to +/-1000 Pa.

Optional material: stainless steel AISI 304, Stainless Steel AISI 316L, or painted galvanized steel (RAL 9010).

The In Line Housing is available with a 25 mm or 50 mm wide pre-filter track to be specified at the time of ordering

The In Line Housings sizes 1.5, 2, and 3 are equipped with 2 access doors, one from each side

Depth of air filter shall not exceed 400 mm. Mufflers

Similar to the silencer used with boilers, the muffler is a component designed and manufactured to reduce the generated noise and resonance produced during the running of power generators. It is placed just after the generator in line with the flue liner.

Usually most mufflers are made out of mild steel sheets with a minimum thickness of 2mm. However, and upon request, Nakhoul Corporation can manufacture all the muffler parts out of AISI Type 304 Stainless Steel (1.4301) or AISI Type 316L Stainless Steel (1.4404), and thickness of 2mm or 3mm.